Mr Buhari said the Lawan-led National Assembly has been so cooperative unlike the previous parliament led by Bukola Saraki.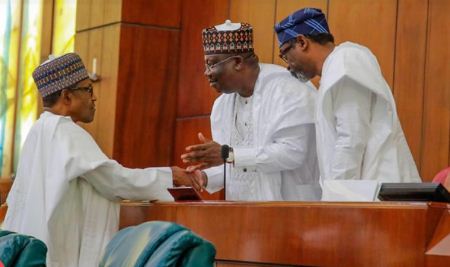 President Muhammadu Buhari has commended Senator Ahmad Lawan led National Assembly for always doing his bidding.
Mr Buhari spoke while receiving the report of the House of Representatives Security Summit that was held in May.
The president said unlike the 8th assembly, led by Senator Bukola Saraki, the 9th assembly has been very cooperative with the executive arm.
"Commending the 9th National Assembly for its cooperation with the Executive, he said he tried very hard to get the 8th Assembly to do same for the sake of the country," Femi Adesina, the president's media adviser said in a statement, quoting Mr Buhari as saying, "and I didn't succeed much. But time has proved me right."
The Lawan-led National Assembly has been tagged a "rubber stamp" parliament by Nigerians due to its readiness to endorse every proposal brought by the executive.
Many Nigerians believe the parliament, as the second arm of government, is not living up to its role of providing checks and balances to the powers of the executive branch.
READ ALSO: Kaduna: Bandits kill 222, kidnap 774 in Q2 2021, collect taxes in 12 LGs
Senate President Ahmad Lawan has however continued to maintain that the National Assembly under his leadership will not oppose any action by the Buhari regime.
The National Assembly has continued to approve hefty loan requests for the Buhari regime despite the escalating debt burden on Nigeria.
It has also failed to challenge Mr Buhari's draconian policies and actions, one of which is the recent ban of Twitter in the country.