Provincial health department spokesman Ammar Bashar said 58 people died after the blaze erupted at Imam al-Hussein hospital in Nassiriyah city, some 375 kilometres south of the capital Baghdad.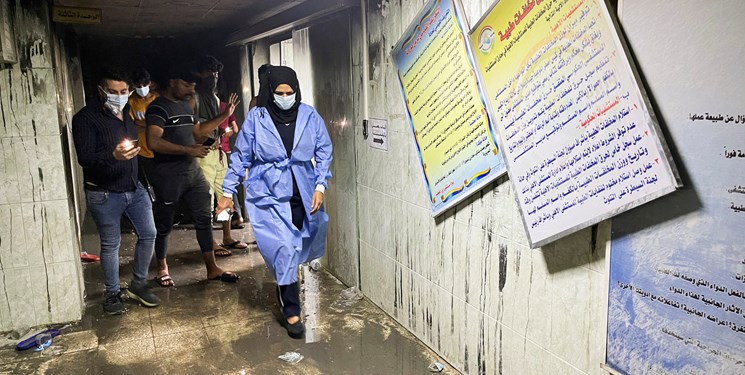 Meanwhile, the Nasiriyah News Network reported that 60 bodies so far reached the forensic medicine department in Nasiriyah, including 30 unidentified.
It added that people were flocking to the forensic medicine department to search for relatives.
The fire hit the isolation section for COVID-19 cases at Imam al-Hussein hospital on Monday night.
Bashar said 63 patients were in the section.
READ ALSO: Alleged N9bn Fraud: Federal High Court Threatens Arrest Warrant On Stella Oduah
It was built after the pandemic began last year and consists of 20 caravans over a 600-square-metre area and designed to take up to 100 patients.
While officials have not yet confirmed the cause of the fire, witnesses said it started when an oxygen cylinder exploded.
Many ambulances were rushing towards the hospital, ferrying away those hurt by the fire, the sources said.
Patients not injured in the incident were also being transferred out of the hospital.
The head of Iraqi civil defense unit told the state news agency INA that the fire broke out on the floor designated for the pulmonary intensive care unit and that 90 of 120 people in the hospital have been rescued.
Maj Gen Kadhim Bohan added that the fire has now been put out.
Iraq's healthcare system, already ruined by decades of sanctions, war and neglect, has been stretched further during the coronavirus crisis.
The total number of people infected with Covid-19 in Iraq is 102,5288 including 15,217 deaths, the health ministry said on Saturday.
Prime Minister Mustafa al-Kadhimi suspended the heads of Dhi Qar Health Department, the hospital and the head of civil defence.
All three will face investigation. (dpa/NAN)