Taiwanese President Tsai Ing-wen presented U.S. House of Representatives Speaker Nancy Pelosi with a special award on Wednesday, calling her "one of Taiwan's most devoted friends" who helped strengthen Taiwan-U.S. relations.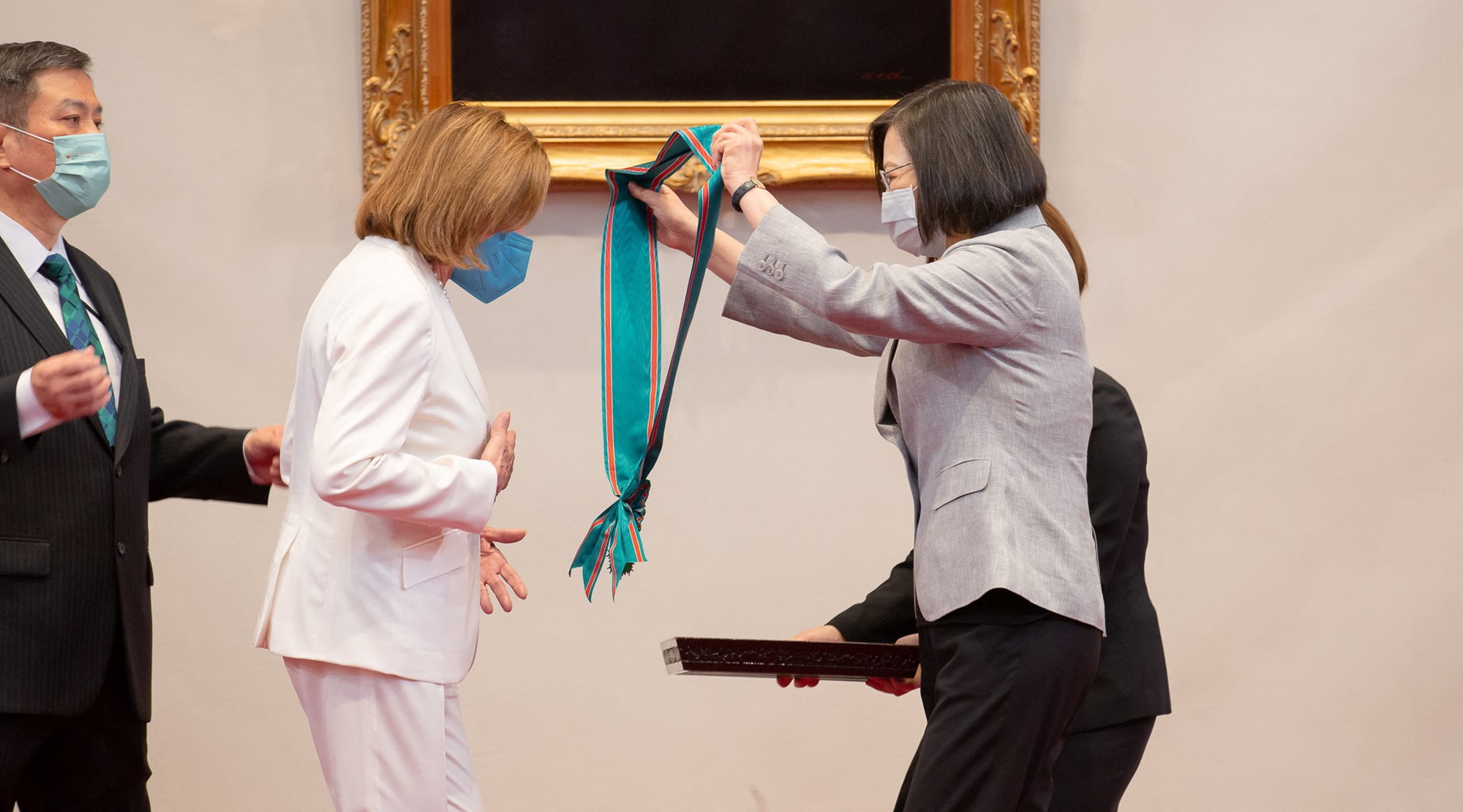 Tsai met Pelosi in the morning after the U.S. House Speaker visited the Legislative Yuan, or Taiwan's parliament. Pelosi praised the island for its success in battling the COVID pandemic and called Taiwan "one of the freest societies in the world."
"Taiwan has been an island of resilience," Pelosi said in a brief speech during her meeting with President Tsai.
"America's determination to preserve democracy here in Taiwan and around the world remains ironclad," the U.S. House Speaker stated, adding that her visit made it unequivocally clear that the U.S. "will not abandon our commitment to Taiwan."
In response, President Tsai Ing-wen said Taiwan "will firmly uphold our nation's sovereignty and continue to hold the line of defense for democracy."
"Facing deliberately heightened military threats, Taiwan will not back down," Tsai said, referring to the latest developments across the Taiwan Strait.
As Pelosi touched down on Tuesday evening in Taipei, China's People's Liberation Army (PLA) announced unprecedented live-fire drills at six locations around Taiwan, some overlapping the island's sovereign territorial waters as defined in the U.N. Convention on the Law of the Sea.
On the same day, 21 Chinese military aircraft, including 10 J-16 fighter jets and two reconnaissance airplanes, flew into Taiwan's air defense identification zone (ADIZ).
'Unprecedented military drills'
The PLA's Eastern Theater Command is to "conduct a series of joint military operations around the Taiwan Island from the evening of Aug. 2," said Sr. Col. Shi Yi, the Command's spokesperson.
Naval and air joint drills will be carried out in the northern, southwestern and southeastern waters and airspace off Taiwan, while long-range combat fire live shooting will be conducted in the Taiwan Strait and conventional missile firepower test-launched in the waters off Eastern Taiwan, according to Shi Yi.
Taiwan's Ministry of National Defense on Wednesday condemned what it calls "the reckless behavior by Communist China of conducting live fire drills in waters and skies close to Taiwan, some of which are in the neighboring waters."
The drills will essentially seal off Taiwan's airspace and violate its territorial waters, the ministry said.
The Ministry's spokesperson Sun Li-Fang said China "threatens international aviation routes, challenges the international order, damages the status quo in the Taiwan Strait and destroys regional security."
Activities around Taiwan's territory are closely monitored, the Defense Ministry said, vowing "appropriate responses when needed."
China dismissed Taiwan's criticism of the military drills.
Foreign ministry spokeswoman Hua Chunying told reporters in Beijing on Wednesday Chinese military actions were legitimate and meant as a deterrent to Taiwan.
Taiwan's Ministry of Transportation and Communications is coordinating with Japan and the Philippines to plan alternative cargo flight routes for goods as the Chinese planned drills amount to an air blockade, the official Central News Agency (CNA) reported.
Washington officials said China's announced military drills were an "overreaction."
"There's no reason … for Beijing to turn this visit, which is consistent with longstanding U.S. policy into some sort of crisis or use it as a pretext to increase aggressiveness and military activity in or around the Taiwan Strait now or beyond her travel," national security council spokesman John Kirby said.
Grant Newsham, a retired U.S. Marine colonel turned political analyst, said prior to Nancy Pelosi's visit he did not expect China to launch attacks on the U.S. or Pelosi herself. But, he said, they could lash out at Taiwan.
"The Chinese Communists are now willing to apply serious pressure–including possible military force–against America's friends and partners, and dare the United States to respond," he told RFA.
"That's what I think we are most likely to see and most likely directed against Taiwan. In other words, making the Americans have to take the 'first shot' against the PRC," added Newsham.
"Taiwan's government needs to do what is necessary to ensure Taiwan can defend itself," said the analyst.
"It needs to increase defense spending, show its military some respect and improve terms of service, re-institute national service, create an effective reserve defense force and create an effective civil defense scheme."
A new crisis?
Beijing considers Taiwan "an inalienable part of China" that must be reunited with the mainland at all costs.
Analysts say, however, despite the noisy saber-rattling by Beijing, a new crisis may not happen as "nobody wants war."
"While China has said Pelosi's visit would challenge its "red line" for Sino-U.S. relations, it's unlikely that Beijing will do something risky in the Taiwan Strait during her visit," said Baohui Zhang, Professor of Political Science at Lingnan University in Hong Kong.
"Beijing has no interest in triggering scenarios that may lead to miscalculations by all sides and inadvertent military conflicts," Zhang said, adding: "As a rising power, war is the last thing China wants now."
READ ALSO: China: Chinese air force says it can safeguard 'territorial integrity'
During the most recent virtual meeting between Xi and Biden, the two leaders both confirmed the need for bilateral efforts to contain and manage crises.
In Zhang's opinion, Pelosi's visit will have little practical implications for U.S.-China relations, as its trajectory of strategic rivalry has already been set.
The Taipei-based China Times cited leaked diplomatic cables from Taiwan's representative office in Washington DC, saying they showed both the White House and the Pentagon sought to discourage the House Speaker from visiting Taiwan.
"The Biden administration is not in favor of the visit and China knows that," said Baohui Zhang.
"So the visit is largely a symbolic event showing rising Congressional support for Taiwan. It will not redefine U.S.-China relations."
Nancy Pelosi is set to meet with Taiwanese human rights and democracy activists before flying out on Wednesday afternoon to continue her Indo-Pacific tour.
Click Here to Read The Original Post