In an exclusive interview with India Today, Victor Gao, Strategic Affairs Expert and Interpreter for CCP leader Deng Xiaoping, talks about the China-US tension over US House of Representatives Speaker Nancy Pelosi Taiwan visit and more, warned of world-word III shoud US suppor Taiwan militarily.
He said Taiwan would have to suffer the consequences of Nancy Pelosi's visit and called her troublemaker-in-chief of the world.
You may recall that it was earlier reported that, Nancy Pelosi, the highest ranked US government official was set to visit Taiwan in decades, says her trip is meant to reaffirm America's promise to "always stand" with the island.
Ms Pelosi, who as Speaker of the House of Representatives in US Congress is second in the presidential line of succession (behind Vice President Kamala Harris), landed in Taiwan today amid a furious response from China, which claims the island as its own territory.
"Our delegation came to Taiwan to make it unequivocally clear we will not abandon Taiwan," she told President Tsai Ing-wen in televised remarks.
"The story of Taiwan is an inspiration to all freedom-loving people."
Ms Pelosi said American solidarity with Taiwan was "crucial" and had broad bipartisan support in US politics.
Ms Tsai expressed her gratitude to the American delegation for visiting, thanking Ms Pelosi for her "staunch support" and saying Taiwan wishes to "co-operate and work in unity with all democracies around the world to safeguard democratic values".
And she issued a blunt message to the Chinese government.
"Taiwan will not back down," said Ms Tsai.
"We will do whatever it takes to maintain Taiwan's peace and stability."
While Ms Pelosi received a warm welcome from Taiwan officials, a curious thing happened on the island's streets. Uni-President, the company that operates 7/11 in Taiwan, said monitor display systems in multiple stores were hacked, causing the message, "Warmonger Pelosi, get out of Taiwan," to appear on displays in convenience stores across the country.
Uni-President, which operates 7/11, has stated that its monitor display system was hacked this morning, causing "Warmonger Pelosi, get out of Taiwan" to appear on displays in all of its 7/11s across Taiwanhttps://t.co/C9GX8IS7Cm

— Brian Hioe 丘琦欣 (@brianhioe) August 3, 2022
Earlier, Ms Pelosi spoke to Taiwan's parliament. She said Taiwan was "one of the most free societies in the world".
"We come in friendship to Taiwan; we come in peace to the region," she said.
China does not share that sentiment. The country's government has responded furiously to Ms Pelosi's visit, calling it "extremely dangerous" and adding that "Those who play with fire will eventually perish by it".
"Some American politicians are playing with fire on the issue of Taiwan," said Chinese Foreign Minister Wang Yi, who added that the US was "the world's biggest saboteur of peace".
As Ms Pelosi landed at about 10.45pm on Tuesday, local time, Chinese media reported that Su-35 fighter jets had been sent across the Taiwan Strait towards the island.
According to Taiwan, about 20 Chinese aircraft entered its air defence identification zone on Tuesday. It interpreted that as an attempt at intimidation.
The Chinese government has announced it will hold air and sea military drills near Taiwan and test launches of missiles in the sea over the next several days.
While Ms Pelosi's itinerary has been shrouded in secrecy, it is believed she will meet with human rights activists who have criticised China's record on Wednesday.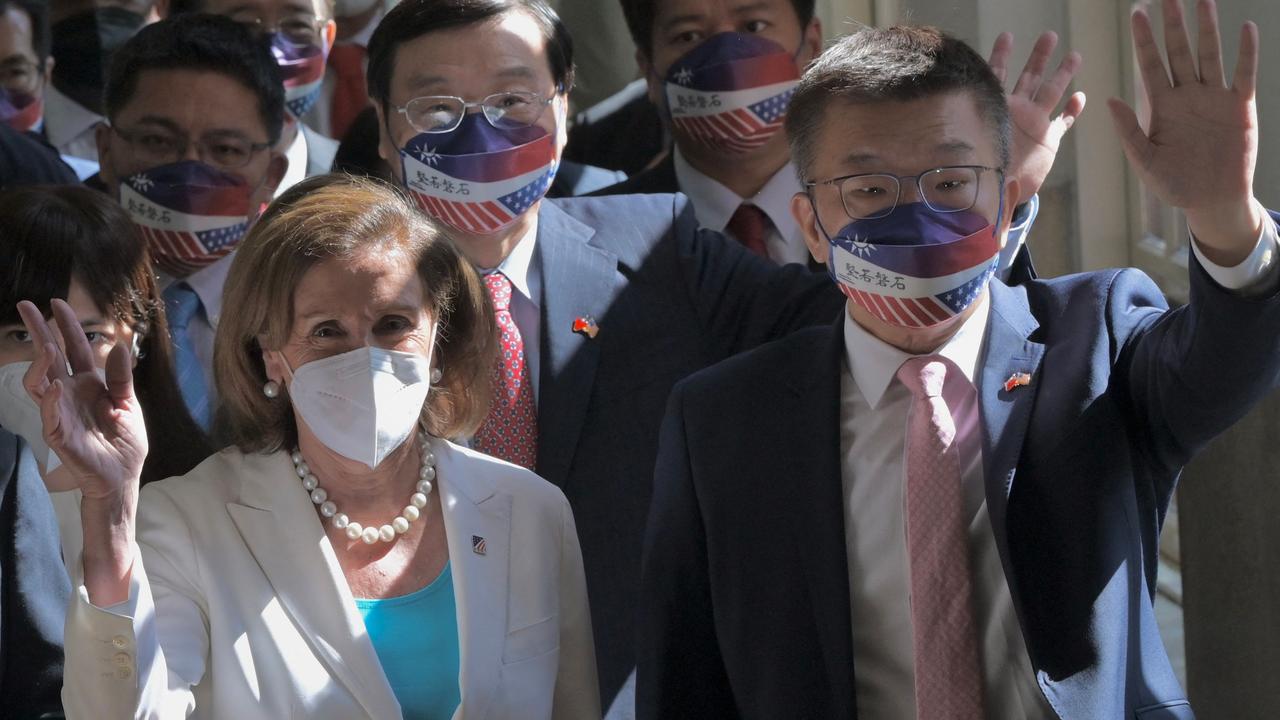 US House Speaker Nancy Pelosi (L) waved to journalists as she arrived at Taiwan's parliament on Wednesday. Speaking in the chamber, she described Taiwan as "one of the freest societies in the world" (Photo by Sam Yeh / AFP)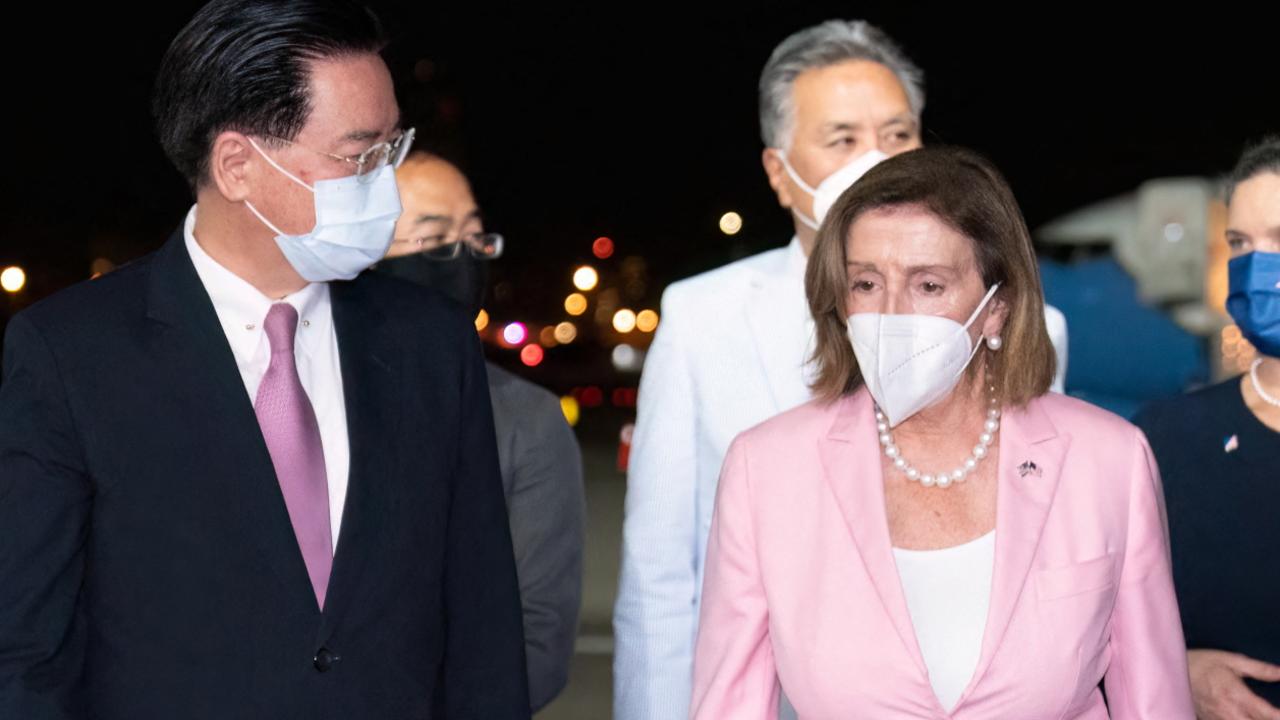 Speaker of the US House of Representatives Nancy Pelosi being welcomed upon her arrival in Taipei. Picture: Taiwan's Ministry of Foreign Affairs (MOFA) / AFP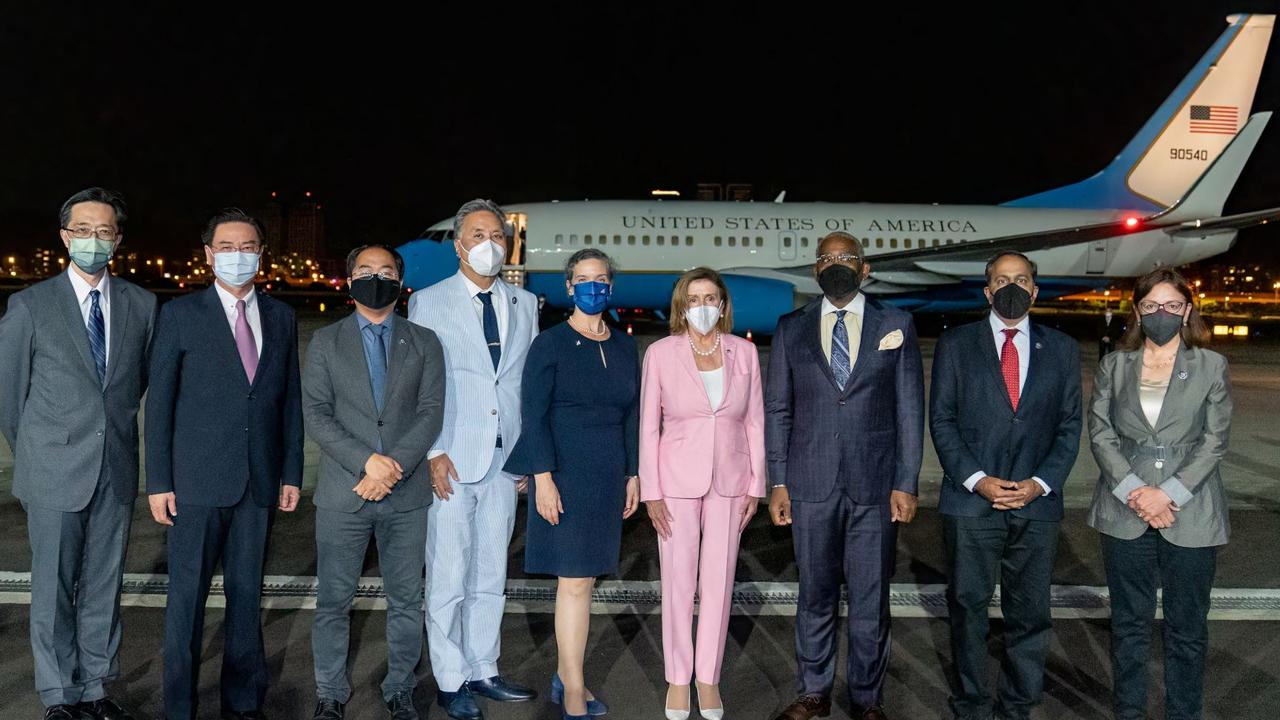 Nancy Pelosi's entourage upon arrival in Taipei on Tuesday night. Picture: Taiwan's Ministry of Foreign Affairs (MOFA) / AFP
https://twitter.com/SpeakerPelosi/status/1554482274430844928?ref_src=twsrc%5Etfw%7Ctwcamp%5Etweetembed%7Ctwterm%5E1554482274430844928%7Ctwgr%5Ea2a7a5cbca21a3dd188c213066d1a9cb5da891ae%7Ctwcon%5Es1_c10&ref_url=https%3A%2F%2Fwww.news.com.au%2Fworld%2Fasia%2Fnancy-pelosi-lands-in-taiwan-despite-warnings-by-beijing%2Fnews-story%2F0348e41ecaaeecbc98f1bbbfbb932395
Ms Pelosi is the highest ranking US politician to visit Taiwan since then-House speaker Newt Gingrich landed on the island in 1997.
Taiwan, officially called the Republic of China, is a self-governed democratic nation. But Beijing considers the island of 23 million people as its territory – to be seized one day, by force if necessary.
The Chinese government views any official visits to Taiwan by senior politicians from other countries as a provocation.
The US government recognises the "one China" policy that Beijing is the legitimate government of China and it only has official diplomatic relations with it and not Taipei. But the US states it also has a "robust unofficial" relationship with Taiwan and supports it remaining free from Beijing.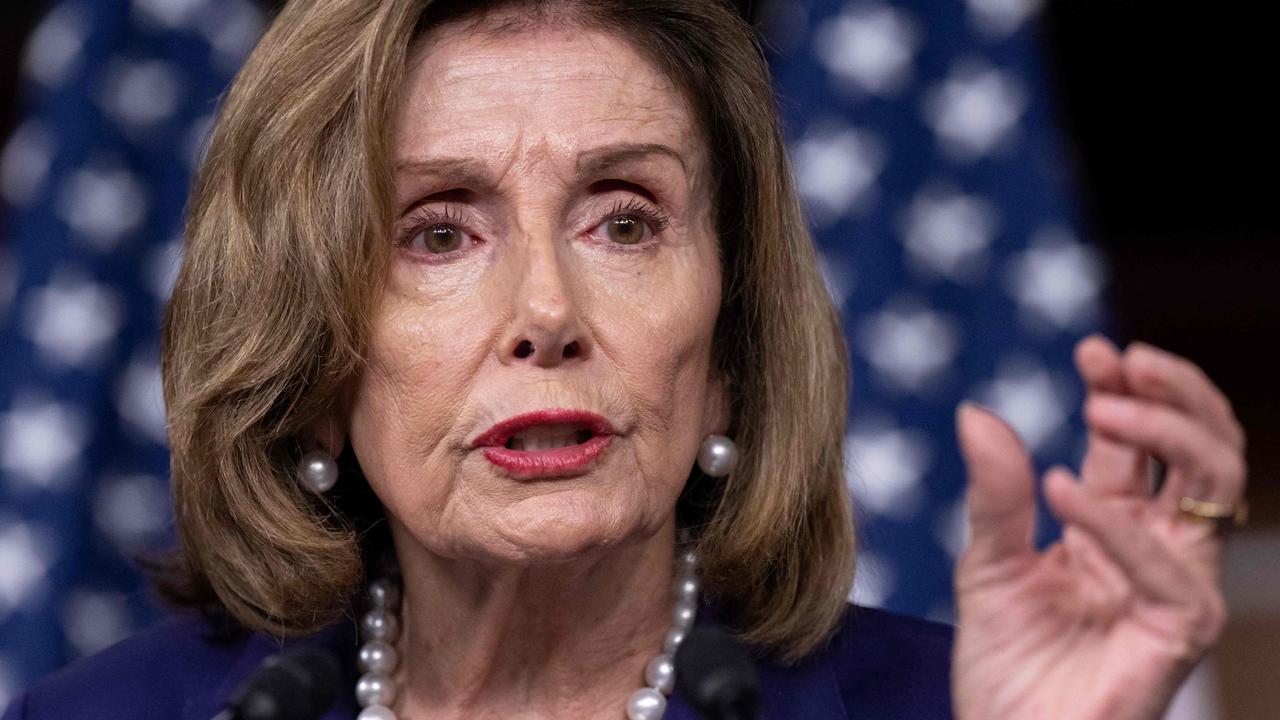 US Speaker of the House Nancy Pelosi. Picture: SAUL LOEB / AFP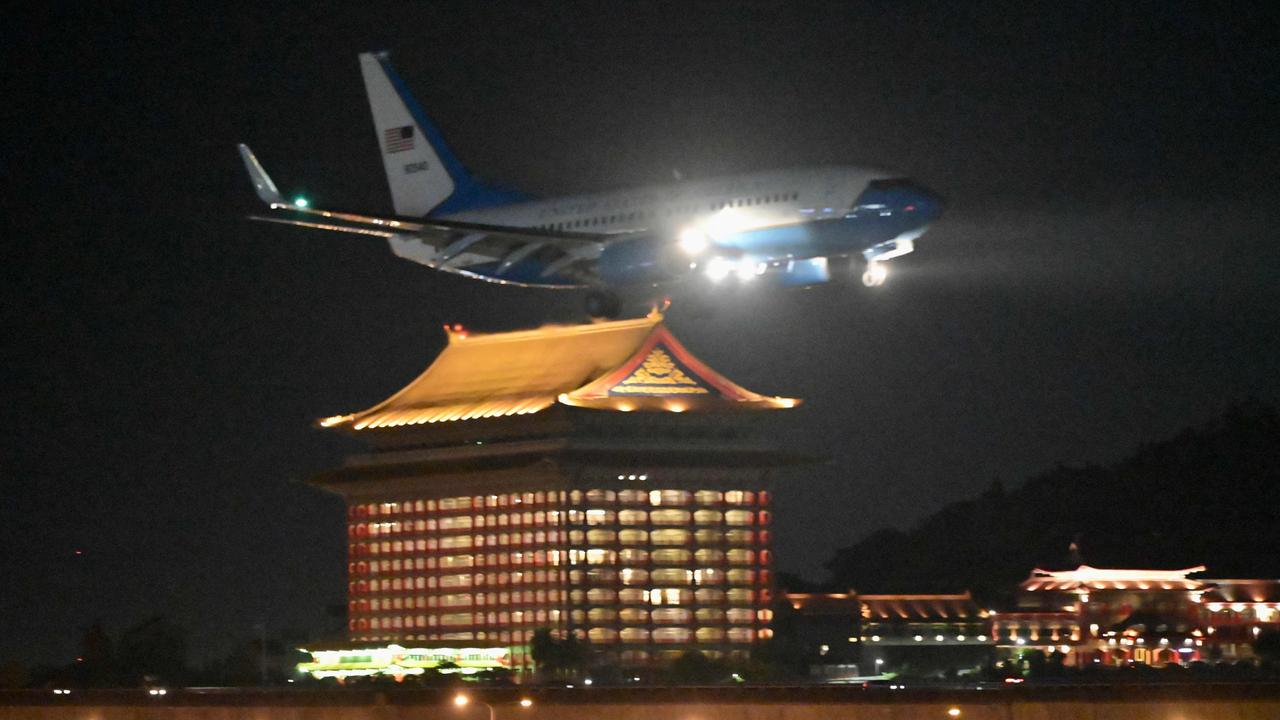 A US military aircraft with US House Speaker Nancy Pelosi on board prepares to land at Songshan Airport in Taipei on August 2, 2022. Picture: Sam Yeh / AFP
A US air force plane transporting Ms Pelosi to Taiwan left Kuala Lumpur in Malaysia at 3.42pm local time.
Her Boeing 737 flew an indirect route from Malaysia towards Taiwan over Indonesia and international airspace close to the Philippines while studiously avoiding the South China Sea, which China also claims as its own.
Both US and Chinese military planes were within the vicinity of the jet.
We welcome the Speaker of the 🇺🇸 House of Representatives Nancy Pelosi's brave friendly visit by a light message on Taipei 101 to show appreciation for the rock solid support of the 🇺🇸 to 🇹🇼.
Image courtesy of Taipei 101 pic.twitter.com/fswC0bfS01

— Taipei Representative Office Bratislava (@office_taipei) August 2, 2022
Trip shows US commitment to democracy
In a statement from Ms Pelosi after she landed, the Speaker said her trip "honours America's unwavering commitment to support Taiwan's vibrant democracy."
"America's solidarity with Taiwan is more important today than ever as the world faces a choice between autocracy and democracy."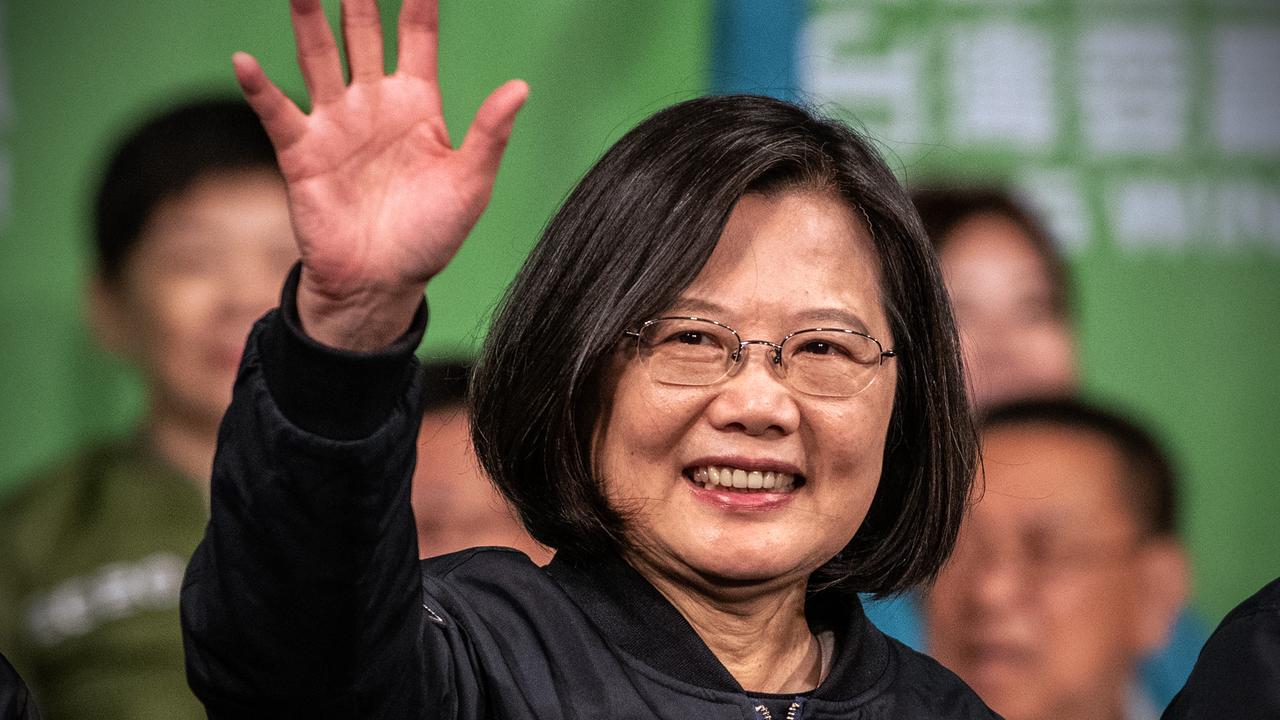 Pelosi will met Taiwan's President Tsai Ing-Wen on Wednesday. (Photo by Carl Court/Getty Images)
She added that her trip, "in no way contradicts longstanding United States policy, guided by the Taiwan Relations Act of 1979, US-China Joint Communiques and the Six Assurances."
Ms Pelosi is currently on a trip visiting leaders in Asia. Taiwan was not included on the itinerary of her trip but was widely expected.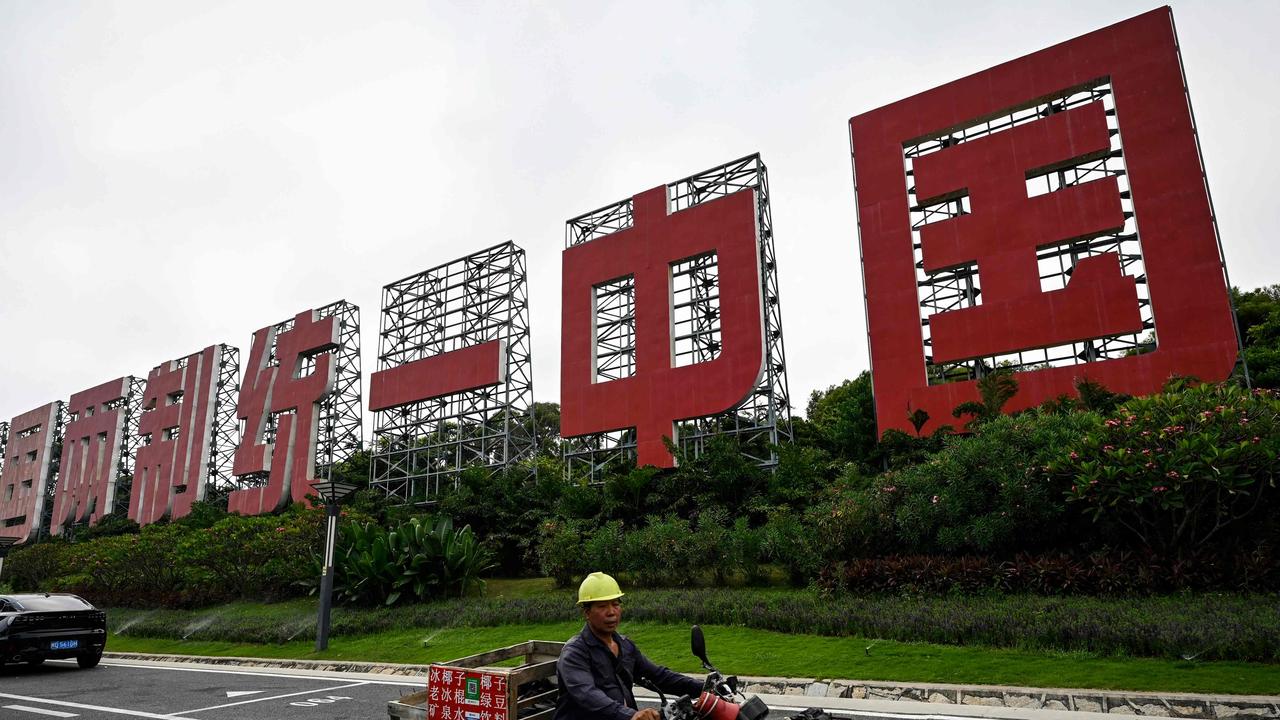 A giant sign proclaiming "One Country, Two Systems, Unify China" in Xiamen, in China's southern Fujian province. (Photo by Jade GAO / AFP)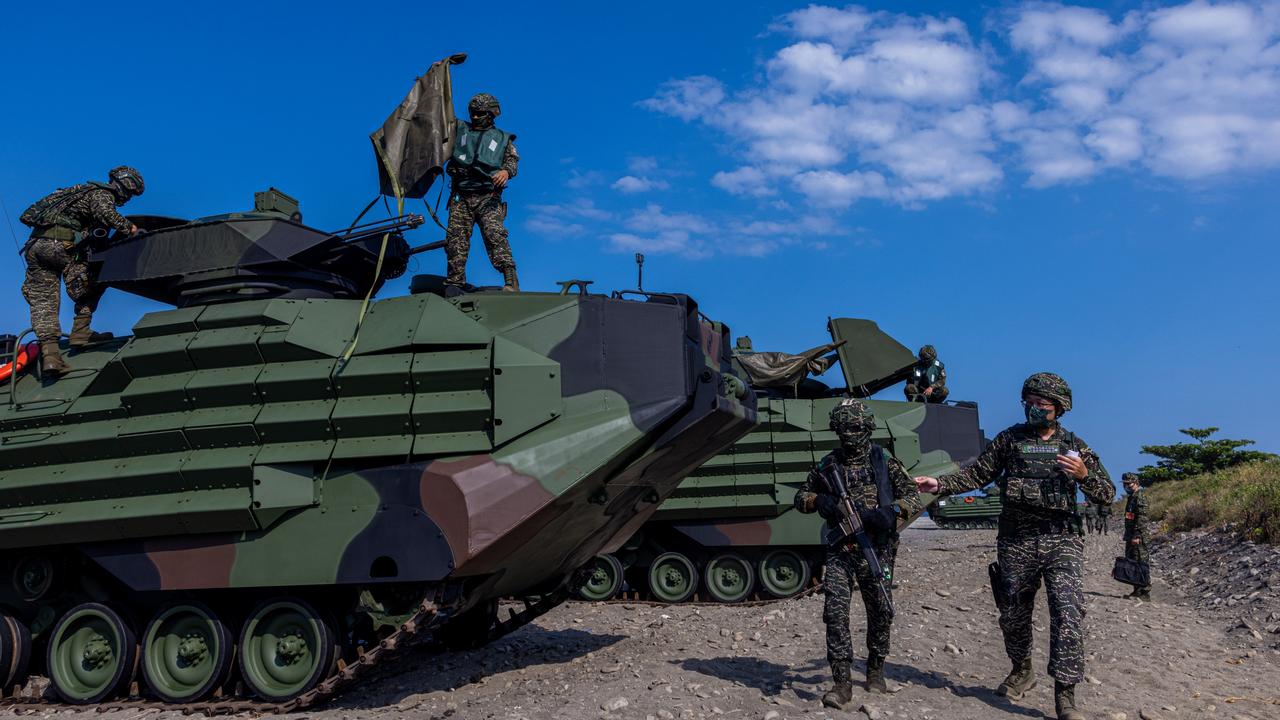 Taiwan soldiers after an amphibious landing drill which simulates China's People's Liberation Army invading the island. (Photo by Annabelle Chih/Getty Images)
China responds with fury to visit
On Monday, China warned that it would take some kind of unspecified action if Ms Pelosi – who is third in the line of presidential succession – stepped foot in Taiwan.
"We once again sternly warn the US side that China stands at the ready and the Chinese People's Liberation Army (PLA) will never sit idly by," Zhao Lijian, a spokesman for the Chinese foreign ministry told reporters in Beijing.
"China will take resolute and vigorous countermeasures to defend its sovereignty and territorial integrity."
Just after Ms Pelosi landed the PLA said it would "conduct important military exercises and training activities including live-fire drills" around Taiwan from Thursday to Sunday.
It released a map showing six regions where the exercises would take place, many close to Taiwan's shore. It warned ships and aircraft to stay out of the exercise zones.
PLA will conduct important military exercises and training activities including live-fire drills in six regions surrounding the Taiwan island from Thursday to Sunday pic.twitter.com/k9q1WEDsyF

— Global Times (@globaltimesnews) August 2, 2022
On Tuesday night, China's foreign ministry issued a furious statement where it said the visit was a "serious violation of the one-China principle".
"It gravely undermines peace and stability across the Taiwan Strait, and sends a seriously wrong signal to the separatist forces for 'Taiwan independence'".
"These moves, like playing with fire, are extremely dangerous. Those who play with fire will perish by it."
The statement added that the US should stop "meddling" in Taiwan which is a "internal affair of China".
Victor Gao, a pro-Beijing one time adviser to former Chinese leader Deng Xiaoping told Sky News UK Ms Pelosi's trip "damages US-China relations".
"This is not a peaceful trip by any measurement.
"The US military and the Chinese military are being antagonised against each other. She is the troublemaker-in-chief in the world.
"Nancy Pelosi's visit does not help with the peaceful reunification [of Taiwan and China] – it could trigger a civil war.
"Nancy Pelosi's visit may, ironically, speed up the reunification process.
"This will happen. And I hope Nancy Pelosi lives to see that day."
Mr Gao added that he wouldn't be surprised if China announced sanctions against Ms Pelosi and her travelling party.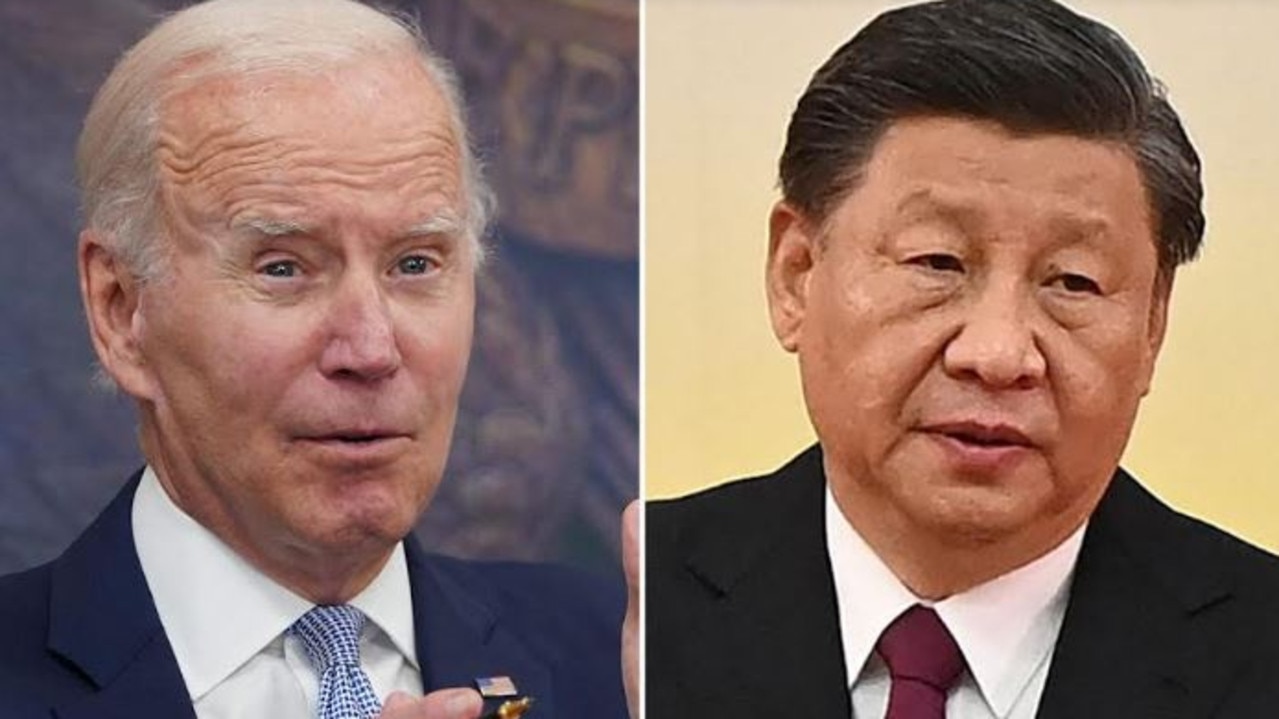 US President Joe Biden and Chinese President Xi Jinping spoke least week and have agreed to a face-to-face meeting. Pictures: Agencies
US President Joe Biden said last week that the US military was opposed to Ms Pelosi's trip. But it didn't stop the trip from going ahead.
In a phone conversation with Chinese President Xi Jinping last week, Mr Biden said Congress was a separate branch of the government and "Speaker Pelosi makes her own decision".
READ ALSO: US' Pelosi angers China but Taiwan, not the US, may pay the higher price
White House national security spokesman John Kirby on Monday said Ms Pelosi's visit to Taiwan did not warrant the recent threats by the Chinese government.
"We shouldn't be as a country — we shouldn't be intimidated by that rhetoric or those potential actions," Kirby told CNN.
Taiwan's people have long lived with the possibility of an invasion but the threat has intensified under Mr Xi.
The US maintains a policy of "strategic ambiguity" over whether it would militarily intervene were China to invade.
While it diplomatically recognises Beijing over Taipei, it also backs Taiwan's democratic government and opposes any forced change to the island's status.
American officials often make discreet visits to Taiwan to show support but a Pelosi trip would be higher-profile than any in decades.
Click Here to Read The Original Post